These letters by my grandfather, Martin J. Conlon to his girlfriend Lena Fogarty, who became his wife and my grandmother, were written during his World War I service in France with the 306th Infantry Regiment of the 77th Division, American Expeditionary Forces.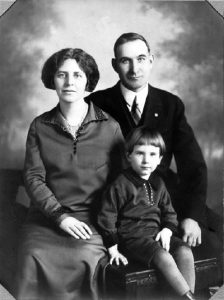 They were married in Lena's hometown of Whitman, Mass. on November 23, 1921, and had two children, my father William Martin (pictured with them) and uncle Joseph Francis.  Lena passed away at 38 years in 1927.
I recently (August 2020) found these letters as I was shredding my Dad's old papers.  They were among recent (at the time of his death) bills, mail and other assorted items, and I assume he got them out of safe-keeping (probably in his bureau) to scan them for us, but didn't have the chance to do so.  Or perhaps, he just wanted to read these letters before joining his parents on the other side.
May 30, 1918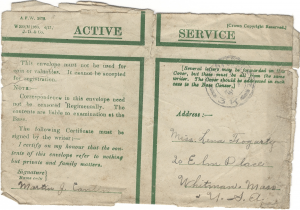 This letter was written on Decoration Day (now called Memorial Day) from somewhere in France.  He mentions Lena's brother Tom (Patrick Thomas Fogarty) who saw difficult action in the Fifth Division.
July 13, 1918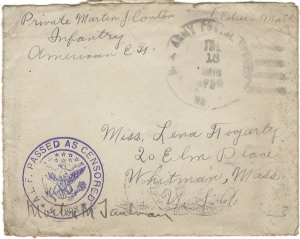 This letter was begun on the eve of Bastille Day and completed the following day.  He mentions that he would like to take in a show at the Old Howard, the famous Howard Athenaeum in Boston.  Also of interest is the censor's stamp and his signature on the last page.
October 21, 1918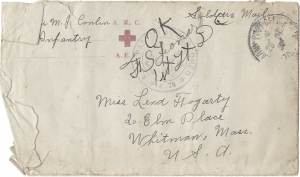 This was written from the Red Cross hospital where he was evacuated following his shrapnel wound during the Meuse-Argonne offensive.   Their letters were clearly not reaching each other, which  would have undoubtedly caused worry and anguish.  There is also a reference to widespread illness, which probably referred to the pandemic flu.
November 12, 1918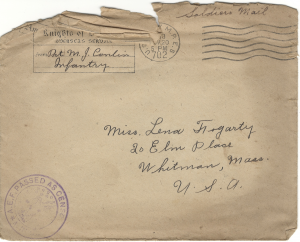 This was written from the Red Cross hospital as the armistice is signed.  Mail hasn't caught up yet.
January 29, 1919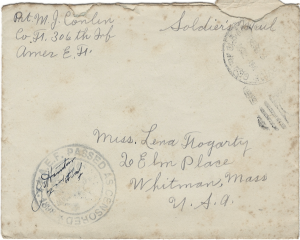 After rejoining his company, this is the last letter from France, and for the first time, a location is disclosed — Sexfontaines, a small village in the Haute-Marnes department. Mention is made of two men killed in action, one in my grandfather's company at St. Juvin, and a mutual friend, named Frank who was dating Teresa.  Teresa was mentioned often in these letters, and is very likely Martin's older sister.